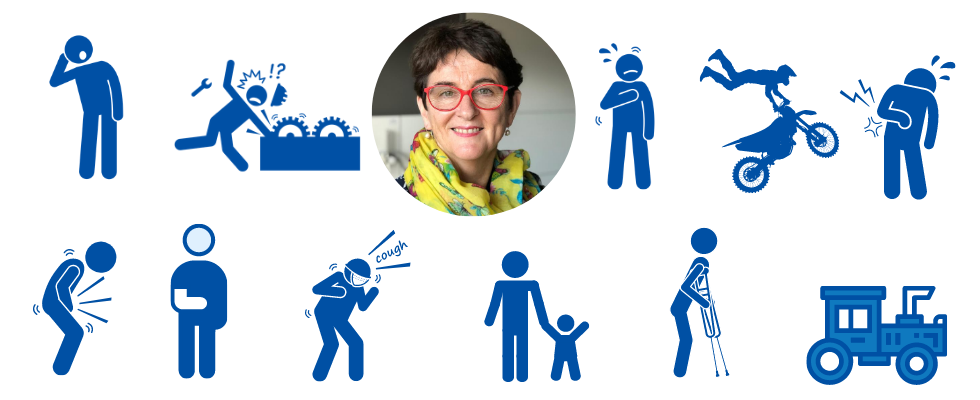 by Dr Susan Brumby
Twitter: @brumby_susan
Your heart is an amazing pump. Weighing in at 300 grams it pumps 6500 – 7000 litres per day[1]. Every day you expect your heart to beat 100,000 times without stopping 365 days of the year. We hope our hearts will continue to beat consistently for 80 – 90 years. This is a big ask and perhaps unsurprising that cardiovascular disease is a leading cause of death with 21 people dying every day in Australia[2].
COVID-19 has not meant that heart attacks, strokes and other cardiovascular issues have stopped occurring, rather that people have put off getting treatment and seeking help. Many, many people have delayed or had to postpone cardiac specialist appointments because of COVID – 19. Whilst putting off appointments is understandable, a recent study undertaken during the COVID lockdown has shown the number of Victorian patients with severe chest pain attending hospital was reduced. Those that did attend were waiting much longer than usual to seek emergency medical treatment[3]. Time matters with heart attacks. In fact, every minute counts, because saving heart muscle depends on getting treatment quickly and early.
Unfortunately rural and remote people have higher levels of heart disease [4]. A study undertaken with Victorian farmers showed that even before COVID-19 farmers were likely to stay at home when they experienced chest pain, and paradoxically, the further they lived from an emergency department the longer they delayed seeking help [5]. Exactly the opposite of what you need to do. To save heart muscle you need to get assistance quickly.
People experiencing 10 minutes or more of chest pain should seek medical advice quickly. The further the distance from help the earlier you should seek assistance. That assistance /advice should be an emergency department with facilities to treat a heart attack – not a general practice clinic. Austin Health cardiologist Dr. Matias Yudi said during the COVID-19 lockdown, "We don't yet know how many patients may have never presented at hospital or potentially died after having heart attacks,". He noted that people who delayed treatment for heart attacks were at risk of other complications such as heart failure from the loss of heart muscle, fluid build-up in lungs and a decreased lifespan[6].
Rural and remote populations have shorter life expectancy than metropolitan populations. So make the time to research your family heart history, have a check-up with your GP and follow up on any appointments that you had.
Remember: If you have chest pain lasting more than 10 minutes and are delaying seeking help, think about your heart and the job it does for you every single day and call triple zero (000).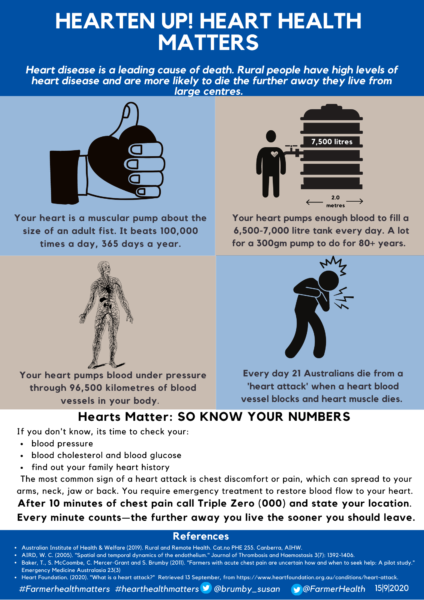 References
Aird, W.C., Spatial and temporal dynamics of the endothelium. Journal of Thrombosis and Haemostasis, 2005. 3(7): p. 1392-1406.
Heart Foundation. What is a heart attack? 2020 13 September]; Available from: https://www.heartfoundation.org.au/conditions/heart-attack.
Toner, L., et al., Acute coronary syndromes undergoing percutaneous coronary intervention in the COVID-19 era: comparable case volumes but delayed symptom onset to hospital presentation. European Heart Journal – Quality of Care and Clinical Outcomes, 2020. 6(3): p. 225-226.
Australian Institute of Health & Welfare, Rural and Remote Health. Cat.no PHE 255. 2019, AIHW: Canberra.
Baker, T., et al., Farmers with acute chest pain are uncertain how and when to seek help: A pilot study. Emergency Medicine Australasia, 2011. 23(3).
Melissa Cunningham and Aisha Dow, 'Huge concern:' Heart attack patients risk lives by delaying hospital treatment, in The Age. 2020, Nine: Melbourne.