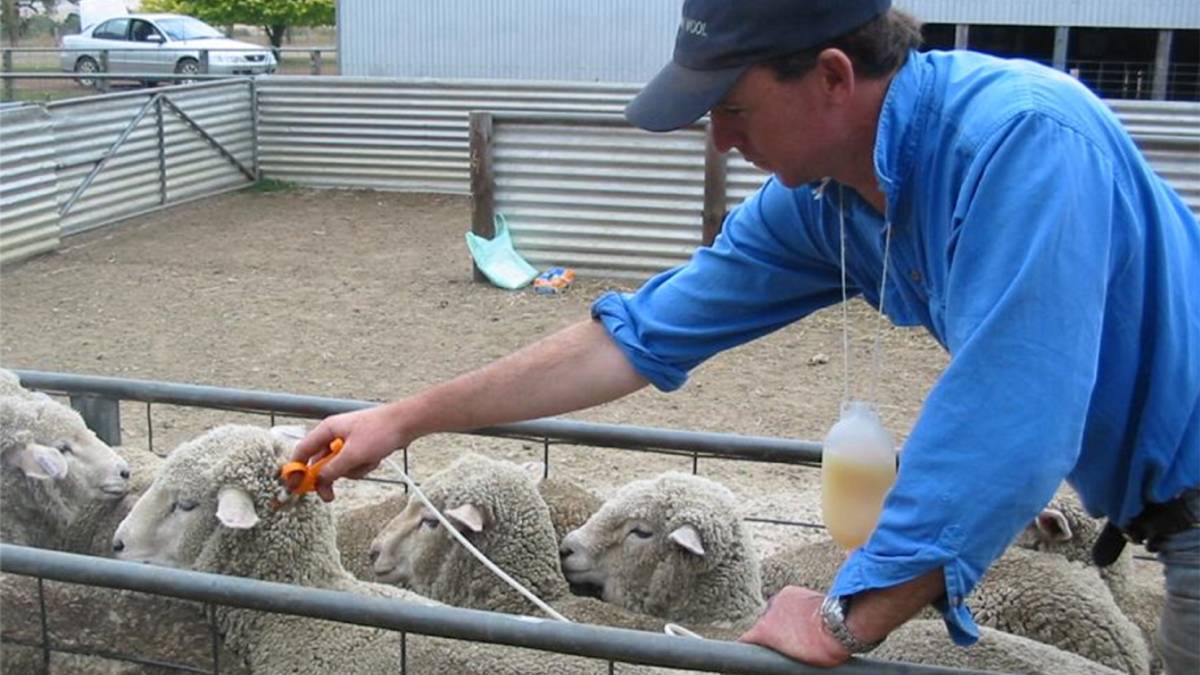 CORRECT TECHNIQUE: Rick Foster, Haven Park, Casterton, Vic, keeps his non-vaccinating hand away from the needle, maintains stability and has a tight race to ensure minimal stock movement. Photo: DAVID RENDELL
EDUCATION is the key to both preventing and treating needle stick injuries, according to the National Centre for Farmer Health, which has warned agricultural workers and doctors to be vigilant.
During workshops the Centre hosted across the country, more than 80 per cent of livestock farmers indicated they had incurred a needle stick injury at some time.
Centre director Sue Brumby said several injected products used in production animals, such as vitamins, vaccines, antibiotics and hormones, could cause significant harm, including loss of fingers, miscarriage and loss of function.
"We take this issue seriously," Professor Brumby said. "In particular, we find that autumn and spring can be the key periods for injury when high numbers of lambs come in for marking."
She said the incorrect treatment of needle stick injuries could lead to complications including ongoing pain and inflammation and cause significant economic impact, which was particularly difficult for sole operators.
Rick Foster, Haven Park, Casterton, Vic, said it was important for farmers, agricultural workers and contractors to understand vaccination technique.
"Practice makes perfect.
"Keeping the non-vaccinating hand away from the needle, maintaining stability, adjusting the depth of the needle, not removing safety shrouds from the vaccinator gun and having a tight race or enclosure with minimal stock movement will all reduce injury risk."
Mr Foster runs an East Friesian-Border Leicester self-replacing flock, alongside a Hereford-Simmental-Angus herd, selling steers and surplus heifers to grassfed beef brands.
He adheres to a strict vaccination program. Ewes receive a pre-lambing vaccination, maternal ewe lambs an OJD shot at marking time and lambs a six-in-one vaccine, a B12 injection and a "booster" vaccination seven weeks post marking.
Any lambs moving to summer crop or high grain feed are re-vaccinated.
Cows are vaccinated pre-calving, while calves are vaccinated, and receive a B12 injection at marking time.
"We go through a lot of needles," Mr Foster said. "It's important to get it right."
Mr Foster chooses to use shorter, quarter-inch gauge needles, which he changes regularly, and only uses top-quality applicators.
"Don't skimp on your equipment," he said. "Spend $20 to $30, rather than freebies to save yourself in the long run."
View full article here: 2019-12-1: Educate to avoid jab injuries on-farm – Stock Journal