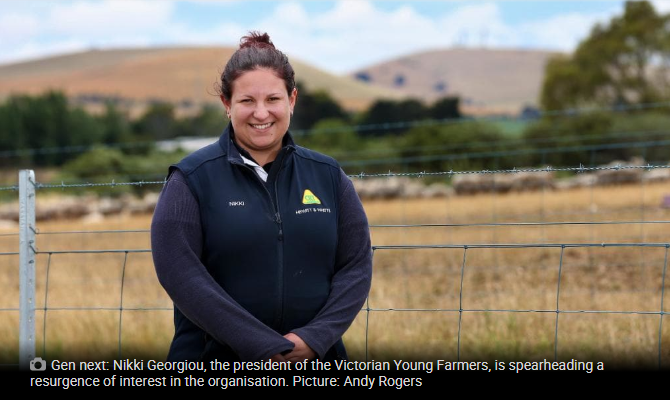 by: SARAH HUDSON, The Weekly Times
WHEN the Victorian Young Farmers group was established in 1947 it was, for many years, largely a social club — a chance to catch up with mates and chew the fat.
So popular did VYF become among its membership of largely 20-somethings that at its peak in the 1970s there were 140 clubs around the state and 6000 members.
But then it hit the skids and by 2004 there were just four clubs with 100 members.
"It was before my time so I can't say exactly how it shrank," says 29-year-old VYF president Nikki Georgiou.
"Probably it was a mix of competing interests, farmers were time poor, or facing tough times in the drought."
It's a sliding trend Nikki and her immediate predecessors have been determined to reverse, with a quiet revolution currently afoot among young farmers.
Nikki, who has been a member of the Clunes and District Young Farmers group for seven years, says the VYF is determined to rejuvenate the organisation for a new generation.
The recruitment drive appears to be paying off with 11 clubs now around the state and membership numbers at 250 and growing.
"We have introduced some considerable changes.
"For instance every year there would be a gala dinner, but when I took over we instead introduced a more family-friendly event," says the mother of one.
VYF has recently partnered with the National Centre for Farmer Health in Hamilton, sharing knowledge and events to highlight broad farmer wellbeing, including mental health.
Read the full article: 2019-01-02: Victorian Young Farmers experiences resurgence after slump – The Weekly Times