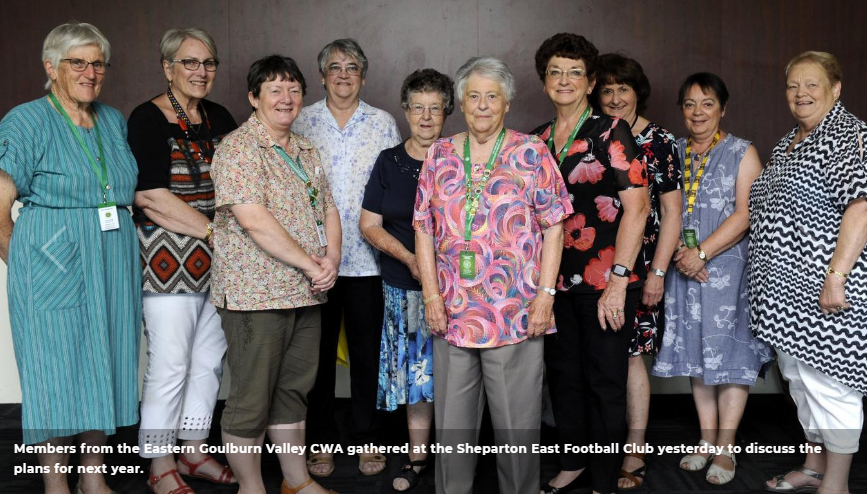 by MADELEINE CACCIANIGA
The Eastern Goulburn Valley Country Women's Association gathered yesterday along with their state president to discuss their achievements during the past year and plans for the new year.
CWA group president Gwenda Metzke, although stepping down this year, said she would remain a member for years to come.
''It's in my blood, my grandmother was a member, my mother was a member and my granddaughter has just joined up also,'' Mrs Metzke said.
Mrs Metzke led the group for the past two years and has seen an increase in membership of the younger generation.
''We've had an increase in membership, but we've also lost some near and dear ladies that have guided us up to this point,'' Mrs Metzke said.
CWA state president Lynette Harris always enjoys coming to Shepparton to catch up with the Goulburn Valley.
''This group is a really lovely and welcoming group, which makes my job easier,'' Mrs Harris said.
This year the CWA is focused on studying or supporting the lamb and wool industries, elder abuse prevention, the country Peru, partnering with the National Centre for Farmer Health and raising funds for and continuing upgrades at Umina Bed and Breakfast.
''The big thing for this year is the theme for 2018, celebrating 90 years of diversity,'' Mrs Harris said.
Mrs Metzke hoped the Eastern Goulburn Valley CWA would continue to increase member numbers and have success in donating to various charities and schools in the area for another 90 years.
''It's all about friendship and helping the community,'' Mrs Metzke said.
View article: 2018-02-15: CWA celebrates past year, looks to future – Shepparton News