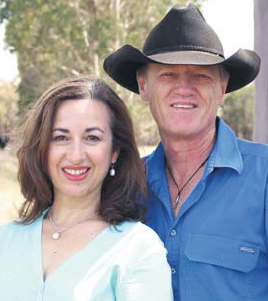 By Jo Fulwood
Agriculture is widely acknowledged as being one of Australia's most dangerous industries, but more funding is now available to improve the skills of professionals working in rural areas.
A total of $15,000 in scholarships are now available for a five day intensive agricultural health and medicine program, to be held early next year in Hamilton, Victoria.
The academically recognised postgraduate course, offered through Deakin University's School of Medicine and the National Centre for Farmer Health, will equip health providers, rural professionals and farming communities with the knowledge and skills they need to help reduce the industry's high morbidity and mortality rates.
Albany couple Jack and Lisa Wieske, who both work as health professionals in rural WA while living on a working cattle property, completed the course on a scholarship.
Both say the skills they have learned have changed their ability to help farmers improve health outcomes.
Mr Wieske, who is a clinical nurse, now provides health assessments for farmers to give them a snapshot of their overall health and wellbeing.
"To perform these assessments we need to be qualified as a registered nurse, but it is also a requirement for us to have completed this course," he said. "The course gave me a different view of health, focusing on primary care or preventative health care, so we were no longer dealing with the problems when they were at such a level we were unable to reverse matters.
"We both have enjoyed being part of this movement to improve the lot of our rural sector."
For Mrs Wieske, the course allowed her to understand the specific health issues relating to those working in agriculture.
"I was working in haemodialysis nursing and was becoming aware of higher incidences of farmers and rural people ending up on dialysis due to chronic disease," she said.
"I wanted to become more proactive in the prevention of chronic diseases and to also promote farm safety, and this course gave me the knowledge and skills to do this." Mrs Wieske said she believed she was making a significant difference to the health and wellbeing of farmers in the Albany region.
"Whether I'm encouraging a farmer to look after his or her health through health assessments, or chatting about the everyday stresses of farming, I feel
like I'm making a difference to the people in our area," she said.
National Centre for Farmer Health's Susan Brumby said agricultural workers had a high rate of injuries, including fatalities, and also suffered chronic
disease at higher rates than those in the cities.
"A healthy workforce is vital for a productive agricultural industry, but we have learned farming families and their communities face poorer health outcomes than their urban counterparts," she said.
Scholarships are being offered in the three categories of Open/Multidisciplinary, Aboriginal/Torres Strait Islander, and Veterinary, Psychology or Optometry professionals.
The five-day program will run from February 26 to March 2 next year in Hamilton, Victoria.
The partial scholarships are open to anyone with a graduate degree, and cover tuition fees Applications close December 10.
Course details are available at deakin.edu.au, while information on the scholarships can be obtained from Jacquie Cotton by calling (03) 5551 8585 or online at www.farmerhealth.org.au.