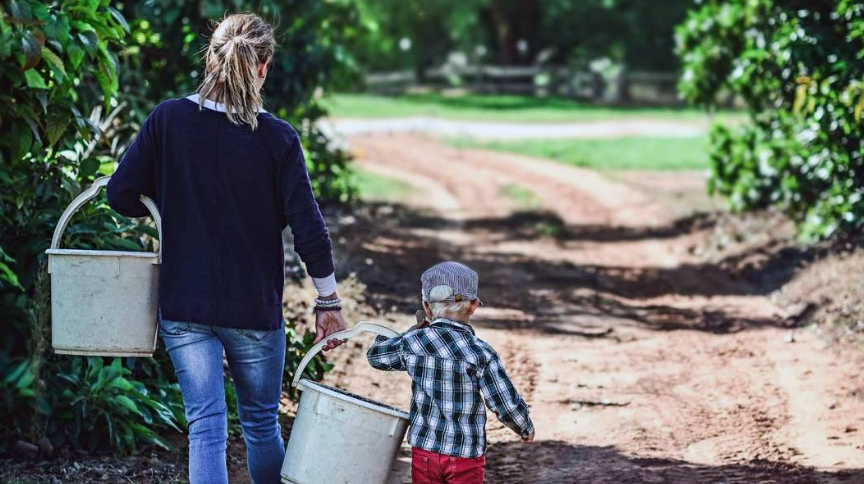 By Shelby Garlick
NESTLED away on an 800-hectare farm near the banks of the Murray River, outside the small farming town of Barham, is an avocado farm taking Melbourne's café scene by storm.
Katrina Myers, along with her husband and young family, lovingly tend to the same paddocks that four generations of Katrina's family have cared for before them.
If you've been to Melbourne's popular cafe Top Paddock, and sampled their famous bacon and eggs with mashed avocado, you've probably had one of her delicious 'Barham avos'.
But getting her avocados from paddock to plate hasn't been without its struggles for Katrina.
At a young age she lost her father to suicide. And to her, mental health is everything.
"His death has affected me throughout my life in various ways and probably more as an adult and as a mother than it did at the time," she says.
"There's not a day that goes by that I don't miss him and wonder what things would be like if he was here."
Katrina's story isn't a stand-alone story and reflects the widespread problem of mental health in rural areas.
Men in remote areas are 2.6 times more likely to end their lives by suicide than those in metropolitan areas, according to a report by the Australian Institute for Health and Welfare.
Recently dairy farmers were thrown into the spotlight after a battle erupted over the price of milk.
Most news reports discussed the financial ramifications of the price drop, but the focus then shifted towards the effect it was having on their mental health.
Dairy farmer, Wayne Johnson, who was interviewed on Channel 10's The Project, said on air: "The news really hit me when I finally caught up with my wife and she looked straight at me and said, 'if it wasn't for me and the children, she'd probably kill herself.' "
Katrina said: "People forget the huge strain on women who are supporting men who have depression and I would certainly like to see more support for women.
"The focus definitely tends to be on men but I feel there are many women who are coping with some form of mental illness, whether their own battles or from supporting their partners."
Mental health among people from rural areas isn't a new issue.
During the 1980s and '90s a farmer died by suicide every four days, which amounted to 92 suicides per year, according to a 2002 report from the University of Sydney.
Dr Samara McPhedran, a senior research fellow at Griffith University, said farmer suicide rates have come down, but the issue hasn't been studied enough for medical professionals to have a clear understanding.
"To effectively prevent farmer suicides it is vital to acknowledge the complex set of challenges farmers face," says Dr McPhedran.
George Bender, a well-known anti-coal seam gas farmer in Queensland, died by suicide in October last year.
Bender's suicide has been blamed by his family on his decade-long fight to keep Origin Energy off his 2000-acre farm.
Dr McPhedran says too often people assume there is a clear connection between natural disasters, drought and farmer suicide.
"There are many individual and contextual circumstances, both environmental and psychosocial stressors associated with farmer suicide," says Dr McPhedran.
Prolonged drought, natural disasters, financial hardship, pricing of agricultural commodities and a shift away from rural industries, primary production policy changes and decreasing political representation can all be factors.
Studies have found farmers have a higher likelihood of experiencing social isolation due to long working hours and geographic remoteness.
Katrina had always wanted to get involved with advocating for mental health and for prevention and a holistic approach to treatment.
When she heard about The Ripple Effect project, she applied to be on the steering committee.
The Ripple Effect is an online intervention program designed to investigate what works to reduce the stigma among males from the farming community who have been affected by suicide.
To view full article: 2016-08-01: Ripple effect through rural communities – Gannawarra Times