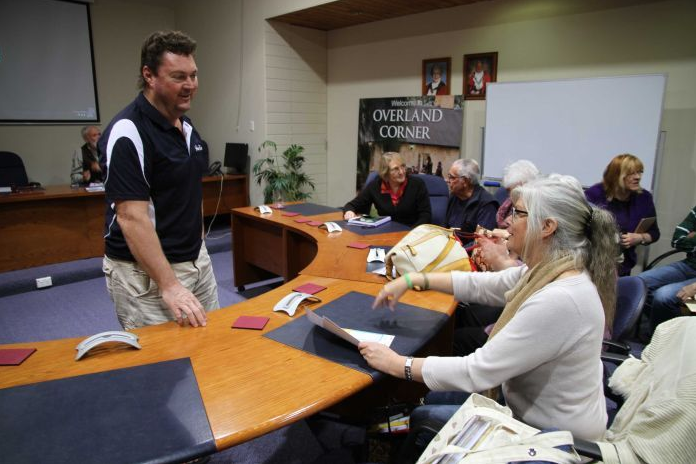 A former South Australian farmer who tried to end his own life after accidentally shooting a friend is dedicating his time to helping people in the bush with their struggles.
Bill Stockman spent his early years riding tractors and helping his parents on a farm in Burra, 156km north of Adelaide.
Like many country kids, Mr Stockman was sent to boarding school, even though he always knew he was destined to work the land owned by his family.
At that stage, he was not aware of the impact one single accident would have on the rest of his life.
"I remember it like it was yesterday — February 3rd, 1985. It was a Sunday night and I had a friend over," he said.
"I was 14 years old and we were shooting galahs on the front driveway.
"I turned with the gun and the gun went off and killed him (Mr Stockman's friend). It was pretty tragic and very horrific what I saw."
The lack of support and services during the crucial weeks after the accident would shape Mr Stockman's life forever.
"Back then there wasn't the help around like today. I had no counselling, and five days later I was back at boarding school," he said.
Returning home to face his demons
It was not until he was 26 that Mr Stockman received a call from home to take over the family business, meaning he would have to face his demons again.
"I never told anyone that it was the hardest thing I ever had to do, because I was going back to the place where my accident happened," he said.
"It happened right at the front of the house, so it was virtually a spot you had to walk past every day.
"I would never walk over the spot — I'd always just walk right around it.
"It got even harder … because the bullet [that killed my friend], went right through the kitchen window and lodged in the wall, so just looking at that every day…
"I was dealing with the memories all the time, but like I always did, I just pushed it down and never really spoke about it."
Part of a wider problem
Alison Kennedy is a behavioural scientist with the National Centre for Farmer Health, whose research has looked at the impact of suicide and accidental death on farming communities in Australia.
One of her findings was that farmers were willing to offer support to others, but not so willing to ask for help themselves.
She said Mr Stockman was not alone.
View full article: 2016-07-22: South Australian farmer overcomes own tragedy to help reduce stigma around suicide – ABC News
Created: July 22, 2016
Last Modified: July 22, 2016
Managing Stress on the Farm Book
Available for immediate download or delivery
Read book