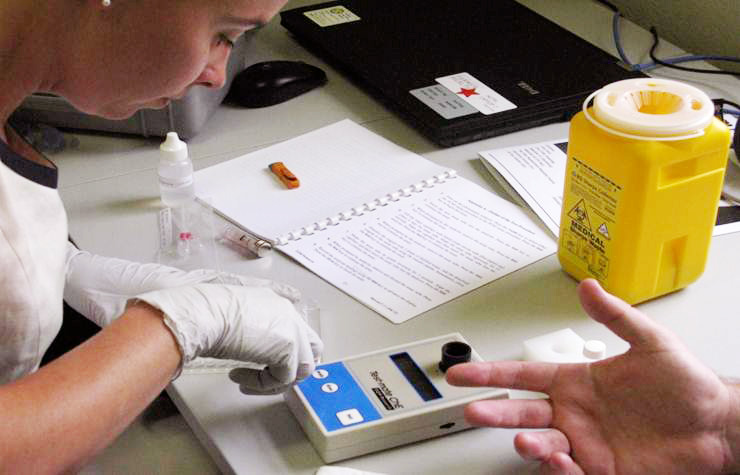 New research to understand the risks farm chemicals pose to you
All farmers know their chemicals are dangerous – but not many realise just how insidious the use of organophosphates really is.
Toxicologist, Associate Professor John Edwards is working with the National Centre for Farmer Health (a partnership with Deakin University and Western District Health Service) to alert farmers to the long-term physical damage they may be suffering and are calling for farmers to be involved in new research.
This new work builds on research recently conducted by the NCFH by using an innovative analysis technique that increases the accuracy of the test result and provides an instant and personalised result. i.e. the level of exposure of 10 – 12 months.
John said the latest research on chronic and low-level cholinesterase exposure – which is associated with a variety of adverse effects that may include Parkinson's disease and other degenerative neurological and psychiatric conditions – is a wakeup call for farmers.
Cholinesterase (ko-li-nes-ter-ace) is one of many important enzymes needed for the proper functioning of the nervous systems of humans. Cholinesterase inhibiting products are intended for insect pests but can also be poisonous, or toxic, to humans in some situations.
Human exposure to cholinesterase-inhibiting chemicals can result from inhalation, ingestion, or eye or skin contact during the manufacture, mixing, or applications of these pesticides.
"We have been working in the South West and we have certainly surprised a few farmers with the results we have discovered," John said.
"Organophosphates are still the most widely-used insecticide in the world, even though some countries are starting to ban them," he said.
"All we need to do with farmers who come to see us is conduct a short interview and do a finger-prick blood test.
"They will now get almost immediate feedback on the state of their health with regard to overexposure."
John said many farmers who have worked long term with OPs "cop a fair bit – from handling, mixing, breathing and even spray drift".
"When we get them to come into a farmer health clinic we are discovering the enzyme activity affected by the insecticide has become significantly depressed in some of them," he said.
"While that vital enzyme activity in humans has a reserve, with further exposure it can reach an acute tipping point. "OPs will wash out of your system over time, but not if there is repeated exposure" he said.
"People on the borderline as a result of longer-term chemical use may present as sick, and they could get sicker," John added.
"For some of the farmers we have seen it, has been like an epiphany, and their previous approach to managing their chemicals instantly takes on a whole new meaning"
The good news is the National Centre for Farmer Health is looking to set up 3 localities of interest and will travel to the local community to save farmers valuable time.
The National Centre for Farmer Health is now calling for farmers in Western Victoria and the Wimmera to be involved across a 10 -12 month period to accurately monitor any changes to cholinesterase.
"This is vital work for the industry and individual farmers also have a lot to gain.
"Please contact the NCFH about our research and make the most of the opportunity to be involved it might just be the best decision you ever make," John said.
The organophosphate research project is being supported with funding from the Shepherd Foundation in Victoria, in conjunction with the National Centre for Farmer Health.
Please go to: https://farmerhealth.org.au/page/research-centre#PCAP
Further Information:
Dr Jacquie Cotton
NCFH 0355518533
J.Cotton@deakin.edu.au