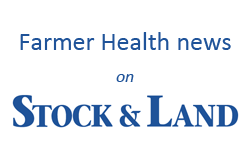 OUR farming communities continue to face tough seasonal conditions, with many battling to water their stock while others are left with failed crops.
It's at times like these that farming communities work together to help each other through tough times. Victorian Farmers Federation members, the state government and our partners are doing all we can to help.
That's why the VFF has come together with the Country Fire Authority, Country Women's Association, National Centre for Farmer Health and the Victorian Royal Flying Doctors Service, in conjunction with the Victorian government, to deliver the Look Over the Farm Gate program.
We are encouraging neighbours to help neighbours and improve their health and well-being by looking over the farm gate and reaching out for a chat….
To read the full article:
2016-01-21: 'Take a look over the farm gate and help out' – Stock & Land