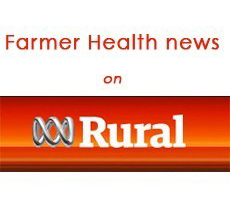 Website and postcards set to help reduce stigma around suicide in Australian farming communities
by Nathan Coates
The National Centre for Farmer Health (NCFH) is concerned about the community left behind when an Australian farmer commits suicide.
The centre has developed a website designed to reduce the stigma experienced by those communities, and has recently launched new initiatives such as pre-paid postcards, the recruitment of community champions and a digital storytelling workshop.
It is all part of what is called The Ripple Effect and it began last year.
NCFH's Alison Kennedy said The Ripple Effect was helping farmers open up about their problems.
"There are heightened risks of suicide within farming communities," she said.
"And there are some cultural aspects within farming communities that suggest people are less likely to seek help when they are struggling.
"That comes down to an increase in stigma around the issues of help seeking, having any emotional problems and suicide."
[… more]
To read the full article and listen to the audio interview: 2016-01-19: 'Website and postcards set to help reduce stigma around suicide in Australian farming communities' – ABC Rural