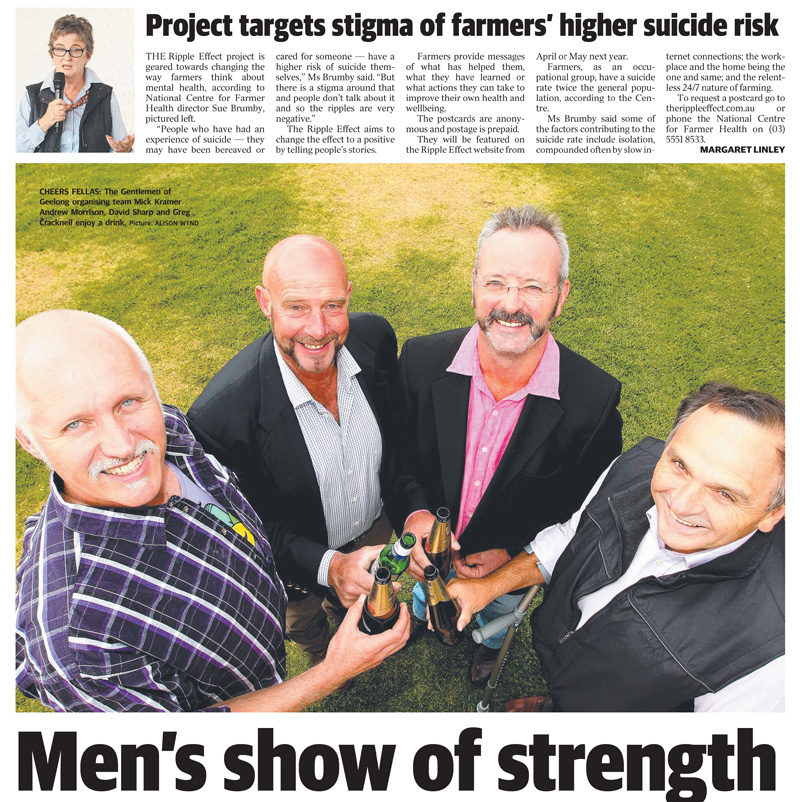 20151128-GeelongAdvertiser-GentsLunch (PDF)
Project targets stigma of farmers' higher suicide risk.
by Margaret Linley
THE Ripple Effect project is geared towards changing the way farmers think about mental health, according to National Centre for Farmer Health director Sue Brumby, pictured left.
"People who have had an experience of suicide — they may have been bereaved or cared for someone — have a higher risk of suicide them- selves,'' Ms Brumby said. "But there is a stigma around that and people don't talk about it and so the ripples are very negative."
The Ripple Effect aims to change the effect to a positive by telling people's stories.
Farmers provide messages of what has helped them, what they have learned or what actions they can take to improve their own health and wellbeing.
The postcards are anony- mous and postage is prepaid.
They will be featured on the Ripple Effect website from April or May next year. Farmers, as an occupational group, have a suicide rate twice the general population, according to the Centre.
Ms Brumby said some of the factors contributing to the suicide rate include isolation, compounded often by slow internet connections; the workplace and the home being the one and same; and the relentless 24/7 nature of farming.
To request a postcard go to therippleeffect.com.au or phone the National Centre for Farmer Health on (03) 5551 8533.
Men's show of strength
by Margaret Linley
MEN walked away from their tractors and desks yesterday in a show of support for men's mental health.
More than 170 members of the Gentlemen of Geelong gathered for the group's annual event at Flying Brick Cider House in Wallington for lunch and a chance to talk.
And, while the event might appear to be just "a day on the turps", organisers said it was so much more with funds raised going to the National Centre for Farmer Health, Headspace Geelong, Lifeline and Movember.
…Read the rest of the article in PDF: 20151128-GeelongAdvertiser-GentsLunch (PDF)