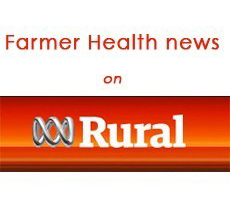 It was The Colosseum, in Rome, that made Victorian grain producer Nick Shady realise he had to move off-farm and commute to 'work'.
In his early 30s at the time, Mr Shady had worked consistently since leaving school and was worn down by years of failed crops and financial hardship.
Good years brought just as much pressure, to expand the business and continue to grow.
"I'd lost interest in farming," he said. "I just didn't have any more drive about what I wanted to do.
"It wasn't a job, because with a job you can go away; it was a part of your life."
Victorian grain growers are facing a disastrous season after the hottest start to October on record decimated crops across the state.
Mr Shady believes the inability to escape such harsh realities, which pervade work life and home life, contributes to the high rates of suicide and depression in rural communities.
"I don't think they can identify it," he said of his peers' mental health issues.
"They will just keep going, keep going, keep going, and then something will break."
New perspective inspires urge to change…
To read the full article, and listen to the audio:
2015-10-20: 'How to survive the good, bad and ugly realities of farming: escape' – ABC Rural