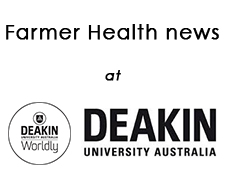 In response to Australia's alarming male suicide rate, "beyondblue" will fund the National Centre for Farmer Health (NCFH) to lead an innovative project that uses technology, such as apps and websites – and evidence-based techniques – to encourage male farmers to take action on mental illness.
The project, called "The Ripple Effect," is being funded through donations from the Movember Foundation and is one of six new "beyondblue" projects that aim to tackle suicide through technology, each targeting different demographics of Australian men.
"The Ripple Effect" will target Australia's farming community, where many males are known to avoid seeking help – particularly for mental health issues – and believe they should demonstrate toughness and self-reliance, rather than emotional vulnerability. Self-stigma and perceived-stigma is common and can be extremely debilitating.
….
Read the full article:
2015-06-17 Technology to combat Australian farmer suicide – Deakin University