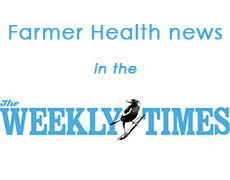 REDUCING stigma about mental health issues is the focus of a new suicide-reduction project.
To mark International Men's Health Week, Beyondblue announced $440,000 over two years for The Ripple Effect.
The interactive digital program, which aims to reduce the number of male suicides by changing the way farmers think about mental health, will be headed by the National Centre for Farmer Health and Deakin University.
Sue Brumby from the NCFH said the project would interact with farmers via their phones, fax or online.
"It's an exciting way to work with farming communities," Dr Brumby said.
"It will allow people to engage, anywhere, any time," she said.
…
Read the full article:
2015-06-18 New project to reduce suicide and stigma about mental health issues – The Weekly Times