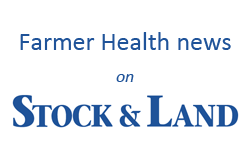 Protecting yourself on-farm
A SERIES of safety workshops will show farmers how to protect the most important asset on-farm – themselves.
The National Centre for Farmer Health has teamed up with Primary Producers SA, DairySA, Yorke Peninsula Alkaline Soils Group and Partners in Grain to hold the program in June.
AgriSafe clinician Tam Phillips said the workshops hoped to create long-term healthy habits and emphasise the importance of follow-up action.
"The emphasis is that the most important part of a healthy Australian farm is a healthy farming family," she said.
"The health of the farmer is just as important as the health of the herd."
Ms Phillips said the laborious routines in rural areas often pushed matters of health to the background.
"Farmers can have limited access to health services, especially in remote and rural communities," she said.
"There are also time constraints – people not making the time to access services and not making it a top priority."
The program incorporates three workshops through four days.
The first two-day workshop has a comprehensive health check that will look at glucose and cholesterol levels, blood pressure, and conduct eye checks, body mass measurements and respiratory tests.
[… more]
To read the full article: 2015-04-18: 'Protecting yourself on-farm' – Stock & Land