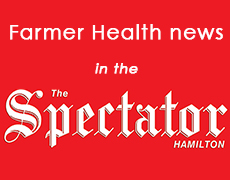 A STATE Labor Government if elected in November would ensure the future of the National Centre for Farmer Health (NCFH) with $1 million each year for four years.
Shadow parliamentary secretary for agriculture, Jaala Pulford announced the news on Friday to staff and board members of both the NCFH and the Western District Health Service (WDHS).
NCFH director, Sue Brumby was speechless and overwhelmed with emotion when the announcement was made.
…
Read the full article:
2014-10-14 Farmer Dollars – Hamilton Spectator -PDF
2014-10-14 Farmer Dollars – Hamilton Spectator website