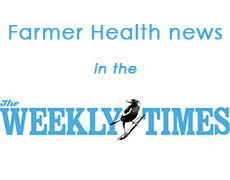 UPDATE: A VICTORIAN Labor Government would fully fund the National Centre for Farmer Health for the next four years if elected.
Western Victoria Upper House MP Jaala Pulford made the announcement at the Hamilton-based centre this afternoon.
The Opposition announced it would provide the centre with $1 million funding each year for the next four years if it wins the November 29 election.
The centre was set up by the previous Labor Government in 2008 but has battled to stay open since the Coalition Government cut its funding in 2012.
The Victorian Government had claimed the centre was a national organisation and should be partly federally funded, but the previous Federal Labor Government had refused.
…
Read the full article:
 2014-10-10 Labor pledges money for National Centre for Farmer Health at Hamilton – Weekly Times