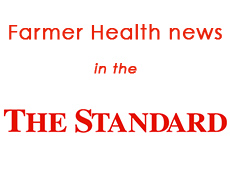 TANIA Nevill pounds the pavement around Mepunga East in the early hours of the morning when many are still tucked up in bed.
The avid runner, preparing for her first marathon, admits her family thinks she's "a bit mad".
Nevill runs on the roads — her family's 190-hectare dairy farm is "very muddy and there's too many holes you'd do an ankle" — taking different routes to mix up the routine.
"I think I like it because I can do it when it suits me," she said.
"I like the freedom of getting out and running at my own pace."
The mother of four will swap the flat Western District roads around her property for a city challenge on Sunday week — the Melbourne Marathon.
Nevill is committed to tackling Victoria's most renowned long-distance running race.
She's completed the event's half-marathon and knows what to expect when she battles the 42.2-kilometre distance on October 12.
Read the full article: 
2014-10-03 Nevill paced by children, dog for Melbourne Marathon challenge – The Standard