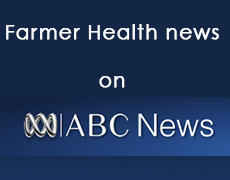 The Victorian Government says it is planning discussions with the Commonwealth about funding for the National Centre for Farmer Health.
In July, the state and federal governments gave the Hamilton-based centre a one-off $625,000 grant, after being overlooked in the governments' budgets.
The centre has been told to look for ongoing funding from the private sector.
…
Read the full article:
2014-09-16 Funding talks planned for National Centre for Farmer Health – ABC News