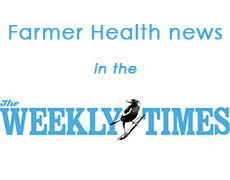 RUNNING in saturated shoes along the sodden shoulders of a bitumen road lined with fresh wintry dew has given dairy farmer Tania Nevill the best preparation for next month's Melbourne Marathon.
The Mepunga East resident has responded to her 5am alarm clock nearly every day since February, averaging up to 60km a week in preparation for her first marathon.
But the mother of four says her grueling regimen has been a walk in the park compared to the challenges farmers face.
"It's easy to make the effort to get out of bed when you have a goal in mind," Ms Nevill said.
…
Read the full article:
2014-09-10 In it heart and sole – The Weekly Times
Source: The Weekly Times
Donate to Farmer Health
Register to Run 4 Farmer Health