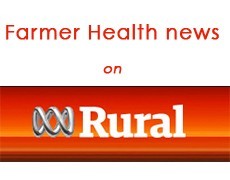 A farmer health program developed by the National Centre for Farmer Health (NCFH) in regional Victoria is being rolled out to farmers in Canada.
The Sustainable Farm Families (SFF) program was designed to empower Australian farmers to change concerning health statistics within their own communities.
Its results on home soil sparked interest from the Canadian Government and three delegates visited the centre in Hamilton, Victoria, last year.
The Alberta Government has now funded the centre to train 12 agri-health professionals, who will roll the program out to about 100 farmers in the coming months.
Project manager Jordan Jensen says the plan is to continue expanding into other regions of Canada.
…
Read the full article:
2014-08-18 Canada adopts Australian farmer health program in global collaboration to 'change the way farmers think' – ABC Rural