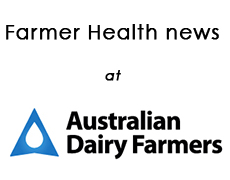 Australian Dairy Farmers (ADF) has welcomed a total of $625,000 funding from the Victorian and Commonwealth Governments for the world-renowned National Centre for Farmer Health (NCFH).
ADF President, Noel Campbell, said the funding, comprising $375,000 from the Commonwealth and $250,000 from the Victorian Government, would enable the centre to run for a further 12 months.
"The National Centre for Farmer Health has made an important contribution towards improving the health, safety and wellbeing of farm men and women, farm workers, their families and the communities in which they live," Mr Campbell said.
"The centre is located in Hamilton in Western Victoria and is a partnership between the Western District Health Service and Deakin University.
…
Read the full article:
2014-07-01 ADF welcomes National Centre for Farmer Health funding – Australian Dairy Farmers [PDF 77kb]
ADF welcomes National Centre for Farmer Health funding – Australian Dairy Farmers