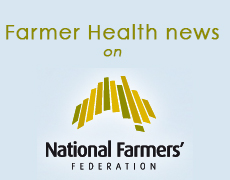 The National Farmers' Federation (NFF) has welcomed today's announcement of funding for the National Centre for Farmer Health.
"Profitable farms start with healthy farmers. A healthy rural workforce is one that is well-informed and has a good understanding of risks associated with their workplace," said Mr Matt Linnegar, CEO of the NFF.
"The Centre has played a key role in helping farming families develop a greater appreciation that maintaining health and safety is a vital part of running successful businesses.
"Today's announcement will help the Centre continue to develop and deliver much-needed programs to address the unique health and safety needs of the farming community," Mr Linnegar said.
…
Read the full article:
2014-07-01 Health boost for farmers – National Farmers Federation