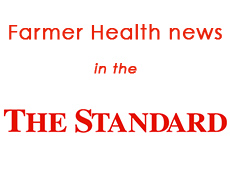 THE embattled National Centre for Farmer Health has been thrown a lifeline by the federal government.
Wannon MP Dan Tehan announced in Hamilton on Tuesday morning the centre would receive a one-off payment of $375,000.
Closure was looming at the Hamilton-based service, which was due to run out of funding last month.
Western District Health Service chief executive Jim Fletcher hailed the eleventh hour funding deal.
"We are pleased that funding has been provided to ensure the continuation of the excellent work to improve the health, wellbeing and safety of those who work and live on farms," Mr Fletcher said.
…
Read the full article:
2014-07-01 Funding boost for Hamilton-based farmer health body – The Warrnambool Standard