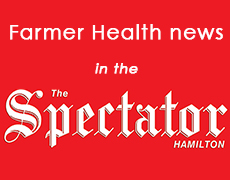 HAMILTON'S National Centre for Farmer Health has received a last-minute $625,000 lifeline from the federal and Victorian governments.
Wannon MP Dan Tehan and Assistant Federal Health Minister Fiona Nash announced a one-off funding package of $375,000 to go with a $250,000 pledge from the state Government.
Hamilton's NCFH is a partnership between Western District Health Service and Deakin University.
The centre was due to start winding down its flagship program today after a two-year struggle to find replacement funding for its initiatives that have won international recognition
The grant will help the centre continue to develop and deliver effective rural programmes such as the Sustainable Farm Families Programme, which promotes improved mental health and health outcomes for Australian farming families.
Mr Tehan said that he was pleased that the Coalition Government has listened and decided to extend this funding for this worthy cause.
…
Read the full article:
2014-07-01 Farmer Health Centre gets $625k lifeline – Hamilton Spectator