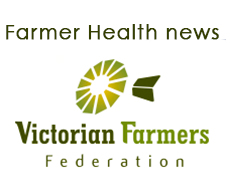 VICTORIAN farmers have today welcomed a $625,000 funding announcement by both Federal and State governments to keep the National Centre for Farmer Health alive.
"The VFF has been calling on State and Federal governments to deliver $500,000 each to this vital rural health service.
"We have fought hard for this funding – it's been one of our key state election priorities. This means that vital initiatives the VFF helped pioneer, such as the Sustainable Farm Families programme can continue.
"Healthy farmers mean productive and profitable farm businesses," Mr Tuohey said.
…
Read the full article:
20140701 Crucial funding to support Farmer Health delivered – Victorian Farmers Federation [PDF 286kb]