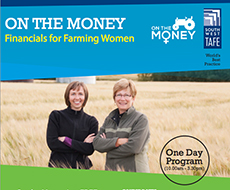 On the Money is a FREE business and financial management program specifically designed for Western Victoria's farming women.
Fundamentally, it's all about money … and farms. In next to no time you'll learn how to improve your farm financial management capacity.
COURSE DATES
HAMILTON – Thursday 29 May
SKIPTON – Friday 30 May
You'll understand the role of:
Your farm's cash position;
Know how to interpret and manage your Profit and Loss;
Understanding your balance sheet;
and how these management tools can help grow your future wealth.
Beyond just giving you an understanding of these farming financial fundamentals, there are other benefits. It's your chance to meet other farming women, to compare notes and roles and share experiences.