SFF™ training program
The objective of the SFF™ 'Train the Trainer' program is to train health, rural and agricultural professionals in the methodology of the award winning Sustainable Farm Families™ Program. After completing the training, health professionals can return to their community and health service and deliver the SFF™ program with some support from the National Centre for Farmer Health.
Trainers will develop a range of practical skills which will enhance and build on their existing skills and experience, including:
Educational strategies – Adult learning theories and knowledge retention
Partnership building – how to link in with and collaborate with industry partners
Recruitment – how to engage and build interest, including key methods to maximise participation
Health services that have undertaken the training have found that it has become part of their strategic direction for farming families in their community. The SFF™ program addresses many contemporary primary health initiatives, for example:
Ambulatory sensitive conditions
Cardiovascular disease
Cancers
Work Health and Safety (WH&S)
Stress
Men's health and women's health
Physical activity.
What SFF™ trainers say about the program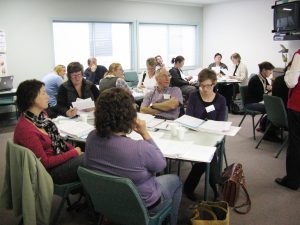 "It was professionally presented, well organised, relaxed but an engaging environment/activities… Thank you kindly for a very educative and enjoyable week"
"Informative, I like the research base"
To learn more about the Sustainable Farm Families™ Train the Trainer sessions, please call the National Centre for Farmer Health on (03) 5551 8533.