Sustainable Farm Families™ (SFF™) programs have been held in Victoria, New South Wales, Queensland, Northern Territory, Western Australia, South Australia and Tasmania.
From 2003 to 2019, 152 SFF™ programs have been delivered to over 2700 participants from various agricultural industries including dairy, cattle, sheep, cotton, sugar, grains, horticulture, viticulture and fishery.
Program Expansion
Delivery of the six initial programs were funded by Grains Research and Development Corporation, Sugar Research and Development Corporation, Meat and Livestock Australia, Australian Wool Innovation, Cotton Research and Development Corporation and Rural Industries Research and Development Corporation.
The National Centre for Farmer Health works alongside health and industry providers to take a proactive approach to farmer health. The SFF™ program is hosted by a health provider, who is trained and supported by the National Centre for Farmer Health through a 'train-the-trainer' approach to ensure the integrity and consistency of the program delivery. SFF™ Train the Trainer workshops have been conducted to 138 rural health and agricultural professionals from across Australia. This allowed the expansion of the program to be delivered in collaboration with rural health services and agricultural industry groups nationwide from 2005.
"The SFF™ program remains, in my experience, the most effective health education, health assessment and health promotion program I have been involved in. it has had measurable impacts on farmers' lives as well as plenty of anecdotal feedback of positive change."

SFF™ Health Professional
Program Evaluation
Extensive independent evaluations of the program have been undertaken with resounding positive results.
The SFF program is delivered to a population with overall relatively poor health and has been effective in improving health status, most significantly for those most at risk.

Victorian Auditor-General's Report 2010
Farmers are overwhelmingly positive in their feedback about the SFF program and the benefits it has had for them.

Roberts Evaluation Pty Ltd 2009
SFF provides a benefit-cost ratio of 5.6: 1 providing value to government.

Economic Evaluation of Investment in the Farming & Fishing Health & Safety R&D Program, Publication No. 11/170, May 2012
Program Reach
Through the support of numerous funding bodies, health services and Industry groups, 152 programs have been delivered from 2003 to 2019 across Australia.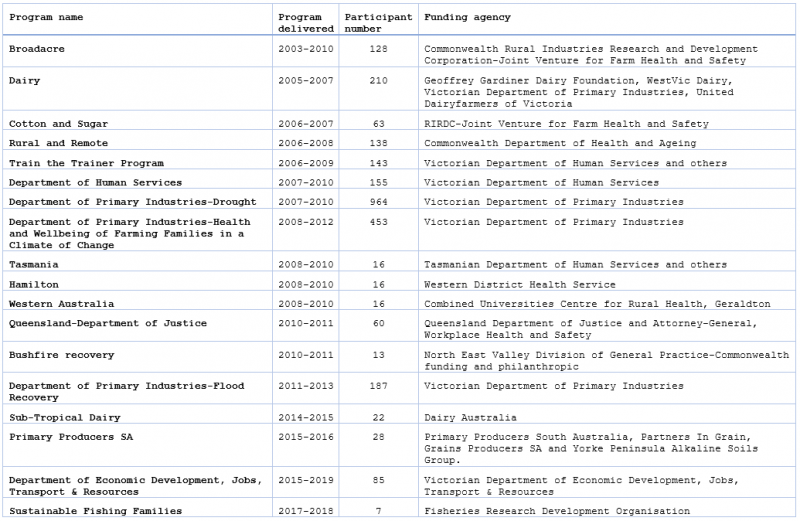 Important Information
Program Enquiries
For any enquiries regarding the Sustainable Farm Families™ Program, please contact: