Education is essential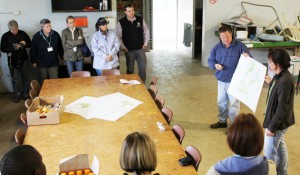 Education is one of the primary aims of the National Centre for Farmer Health (NCFH). It is of key importance to improve the health, safety and wellbeing of farm men, women and children.
Rural Australians experience poorer health outcomes than their urban counterparts, and agricultural workers record higher incidences of injury, illness and work-related death than most other industries. Farmers are also an increasingly ageing workforce required to work harder for longer to be productive in a period of climate instability and shrinking margins. This units delivered by the NCFH detail the health challenges facing today's agricultural workers, their families and communities and has a curriculum structured for rural professionals and postgraduate students from both health and non-health backgrounds.
Training opportunities will be provided for health and agricultural professionals, including general practitioners, nurses, paramedics, allied health practitioners, veterinary surgeons, agronomists and primary industry workers.
The Centre will provide a range of education and training opportunities focussing on agricultural medicine, health and safety. These will include:
Face-to-face postgraduate units for health and rural professionals through Deakin School of Medicine
Webinars
Online lectures
Teaching tools for university and secondary schools.
The National Centre for Farmer health offers 2 units in conjunction with Deakin School of Medicine. These units aim to develop the next generation of rural and Agricultural Health leaders and are the core units for the Graduate Certificate of Agricultural Health and Medicine qualification.
Graduate Certificate of Agricultural Health and Medicine (GCAHM)
A Graduate Certificate of Agricultural Health and Medicine is available in 2022 through the School of Medicine at Deakin Unveristy. This professional qualification will be of great benefit to both health and non-health professionals working closely with agricultural workers and rural communities.
View more information about the Graduate Certificate of Agricultural Health and Medicine
HMF701 Agricultural Health and Medicine
Where and when: 

Victoria: Western District Health Service, Hamilton – Trimester 1 2022
When: TBC – late February to early March

View Scholarships here
HMF702 Healthy and Sustainable Agricultural Communities
When: July – October. Between 2 and 3 hours per week online training
Where: An online unit offered through Deakin Studies Online (www.deakin.edu.au).
Pathways, Education, Training and Skills (PETS) for Rural Victoria
The Victorian Department of Health under its Workforce Innovation Grant program (WIGP) 2010 -2011 was developed to explore, identify and trial (where appropriate) innovations that improve the utility of the health workforce, while maintain and improving quality outcomes, efficiency and worker satisfaction. Under this initiative eight projects were funded to 'improve the delivery of chronic disease management', two projects looking at 'pathways into health and community services' and five projects were funded for 'access to healthcare in non acute settings' which included the PETS project. Read the PETS update »
Secondary students
Children and young adults living or working on farms are more prone to serious injury than adults. The education centre is developing education materials and information sessions for secondary level students about the health and safety risks associated with living on the farm.
Further information
For more information on this unit, the topics covered or on the application process, please contact the Course Chair
Jacquie Cotton
Email
Phone (03) 5551 8533
PO Box 283
Hamilton, Victoria, 3300