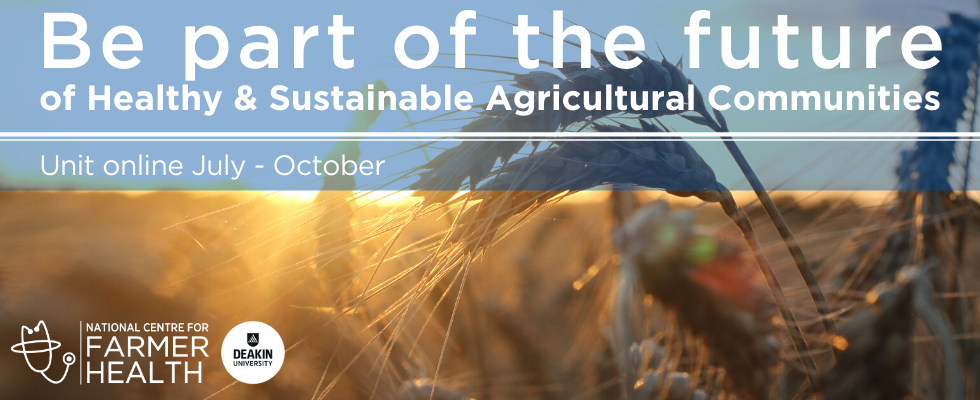 Education centre
What is GCAHM?
What is HMF701?
HMF702 Details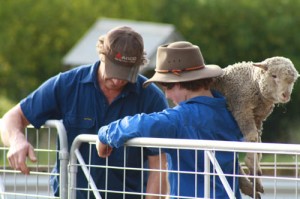 HMF702, Healthy and Sustainable Agricultural Communities is a 12-week online professional training and postgraduate unit offered by the School of Medicine at Deakin University and the National Centre for Farmer Health. It aims to provide an overview of the social, environmental, health promotion and policy determinants of health and wellbeing in rural and remote Australia. Completion of this unit will provide you with the knowledge to positively influence the high rates of illness, injury and poor health outcomes in Agricultural communities.
Who will benefit from HMF702?
Rural professionals, health professionals, paramedics, health care administrators and policy makers would greatly enhance their knowledge of the environmental, social and community stressors facing today's rural and remote communities by undertaking this unit. Why study HMF702 Healthy and Sustainable Agricultural Communities?
Learn about the poor health on the 'other side of the fence' and it's impact on agribusiness, agricultural production and sustainability.
Build your knowledge on
Why farming men and women have poorer health than their city cousins?
What some of the key health concerns are in rural and remote communities worldwide?
How changing agricultural practices influence the health and wellbeing of the community?
What impacts climate variability and natural disasters exert on a rural population?
What can be done to improve health literacy in Agricultural communities?
What hurdles rural policies and community level interventions must overcome to be sustainable and productive?
Who can study this unit?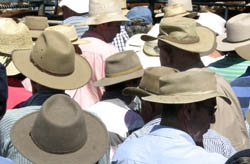 HMF702 will highlight why the most important aspect of a productive and sustainable agricultural industry is a physically and mentally healthy workforce. This study opportunity will be beneficial to professionals looking to:
Improve agricultural production and sustainability
Provide better health outcomes to rural and remote communities
Enhance understanding of health research, policy and literacy in rural and remote communities
Gain an understanding of what is required for effective health provision in Agricultural communities
Benefits of completing HMF702
HMF702 can be completed as a stand alone course that will provide you with relevant expertise for a wide variety of careers.  There is also the opportunity to receive continuing education and professional development points from a number of medical, health and agricultural organisations.
Alternatively, HMF702 can be used as a Deakin University elective, providing credit towards a number of postgraduate qualifications in Public Health, Health Promotion, Health and Human Services Management and Nursing.
Scholarships
The National Centre for Farmer Health provide a number of scholarships opportunities. A limited number of scholarships are available valued at $1650 for those wanting to complete HMF702.
Scholarship applications for 2020 are now CLOSED.

Fees
For more information about course fees please visit the Deakin website Estimate your Course Fees
Further Information:
HMF702 – Healthy and Sustainable Agricultural Communities Unit details or  

HMF702 Healthy and Sustainable Agricultural Communities flyer
Deakin University Student Handbook
Application opening and closing dates can vary from year to year, so make sure to check the Deakin University key dates page to stay up to date with the latest information.
For more information on this unit, the topics covered or on the application process, please contact:
Unit Chair
Dr Jacquie Cotton
Email
Phone (03) 5551 8533
Course Director
Professor Susan Brumby
Email
Phone (03) 5551 8533
PO Box 283
Hamilton, Victoria, 3300